Tuesday, 25th March
21h. Free entrance. caS - centro de las artes de Sevilla – c/ Torneo, 18
Electronic sound project by the artist David J. Fonseca, (aka "d"), born in Sevilla in 1969. Electronic noise, loop manipulation and fragments of sounds full of contrasts.
TENSION Co. http://myspace.com/tensionco
Electronic duo trained at the end of 2006 by Miriam Blanch (aka MIR), laptop and bass that plays, tries and manipulates directly and Jose M ª Perez-Flor (aka Synthetic Mouse), laptop. They join in Seville, city in which they reside nowadays, after confirming your musical tastes and fulfilling some lucky enough "jam" of test, in which there go out to shine, your preferences to the most atmospheric "noise", the digital minimalismo, the electroacústica and, definitively, for the musical ones of difficult traffic that need an a bit more awkward scout. Since then they have not stopped being employed at the study, together or separately to give form and soul to this strange and exciting audible creature called TENSION Co. Visuals by Juan Domínguez aka jVH2Ö.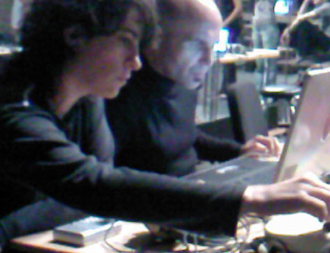 Thursday, 27th de marzo
21h. Free entrance. caS - centro de las artes de Sevilla – c/ Torneo, 18
NEGATIVO carries out his investigation line of new ways of presenting live cinema, experimenting noise, industrial and grindcore.
Dj Hidráulico + Javier Díez
Hidráulico is the DJ nickname of brasilian cultural producer and independant curator Daniel González (coordinator at AVLAB, Medialab-Prado, Madrid).
http://www.pueblorecords.com/ sello Dead Capo
http://impersonalstrikes.blogspot.com/ collective breakcore Dj Hidráulico