Pan Sonic. (FI)
Pan Sonic is a Finnish experimental electronic music duo consisting of Mika Vainio and Ilpo Väisänen. Pan Sonic cite their main influences from the early 1980s, with industrial acts like Throbbing Gristle, Einstürzende Neubauten and Suicide to reggae, hip-hop and dub. The late outsider rockabilly artist Hasil Adkins is also cited, as well as country music star Johnny Cash. Vainio often remarks that their music is a merger of these two schools of music, taking the harsh and pure sounds typical of industrial techno and spacing them out into longer, subdued soundscapes familiar to instrumental reggae and dub.
Some of their equipment is made by third "extra" member Jari Lehtinen. These and other custom made instruments are responsible for creating the sounds typical to Pan Sonic's music. They also use samplers and an MPC2000 sequencer. Pan Sonic are great fans of experimentation and art performances and have done exhibitions and sound installations in museums. They have also made music for Japanese fashion shows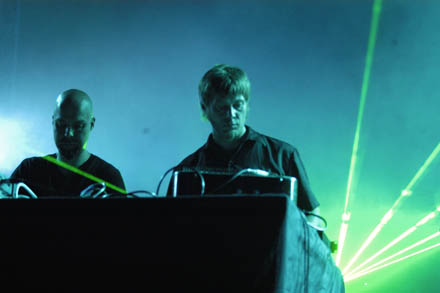 Doravideo. (JP)
Blending live drumming and video art, Doravideo is the solo project of Yoshimitsu Ichiraku. Before collaborating with many Japanese and Western artists — among them Otomo Yoshihide, Haco, Pascal Comelade, Eugene Chadbourne, Gong, Kevin Ayers, Keiji Haino, and Kazuhisa Uchihashi. Programmer Ito Takayuki designed some software to match Ichiraku's needs: first "Paradrum", then "Doravideo" in 2004. This name is derived from "Doraemon", a manga character from the 50s who became a true icon of Japanese pop culture. In the same way Ichiraku plunders video material without any regards for copyright laws, his hijacking of such iconography is a refreshing and vibrant approach in a world paranoid about sampling, downloading, bootlegging and so on.